SYMBOLS AND SPIRITS OF THE MEDICINE WHEEL
THE WISDOM OF THE FOUR DIRECTIONS
An Earth Wisdom Teaching and Autumnal Equinox Celebration with Cynthia Flores-Signet
SOPHIA'S GARDEN, NEW BRUNSWICK, CANADA
September 23, 2017
The Medicine Wheel has been used by indigenous cultures for centuries as a powerful tool for self-awareness, protection, and healing. The Wisdom of the Medicine Wheel teaches us that there is a natural order and an universal timing to all things. It teaches us how to walk in harmony and balance within the Sacred Hoop of Life, how to navigate and flow with the seasons and cycles of nature and our own life. Working with the Medicine Wheel is an active meditation that opens sacred space for communion with Creator and all things seen and unseen.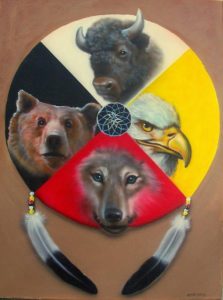 The circle, when constructed ceremonially becomes the Medicine Wheel, and each cardinal point has its own unique characteristics, spirit guardians and totems that represent different aspects of creation, which together form the wisdom of the four directions.
Join Cynthia on a journey through the cycles and seasons of the Medicine Wheel, where we will learn about –
• Spiritkeepers and Totems of the Four Directions – Each direction has its own unique qualities and potency. When we align ourselves with these aspects, we learn to naturally bring more power and harmony into our own life.
• Earth Astrology – We were each born into a specific direction within the Medicine Wheel and reflect certain qualities, tendencies and personality traits inherent to that direction. What direction do you reflect on the Medicine Wheel of Life?
• Build a Personal Medicine Wheel –  will have fun constructing and creating our own portable medicine wheel in class so that you can immediately begin to use it in your own spiritual practice!
• Ceremony & Prayer to the Four Directions/Father Sky/Mother Earth – On this very special day we will celebrate and welcome in the Autumn Equinox, creating a ceremonial alter honoring the elements and the cardinal directions (In both Mayan and Native North American traditions).
AUTUMNAL EQUINOX CELEBRATION! We invite you to celebrate the Autumnal Equinox with us, directly after the workshop. where we will have the opportunity to integrate and use the wisdom of the medicine wheel!  The Autumn Equinox is one of the four great solar festivals of the year, and ceremony acknowledges and celebrates our connection with the cosmos and allows us to be an active participant in the creation process!  The Equinoxes and Solstices are potent cosmic and energetic portals marking the rhythm of our lives, and a way to keep the continuity of balance within the sacred hoop of life. All are welcome to share in celebration with ceremony and sacred songs to the Mother Earth!

JOIN US IN BEAUTIFUL NEW BRUNSWICK, CANADA
 SOPHIA'S GARDEN HEALING RETREAT & STUDIO
www.eent.ca  or contact Tonya at 506-567-9942