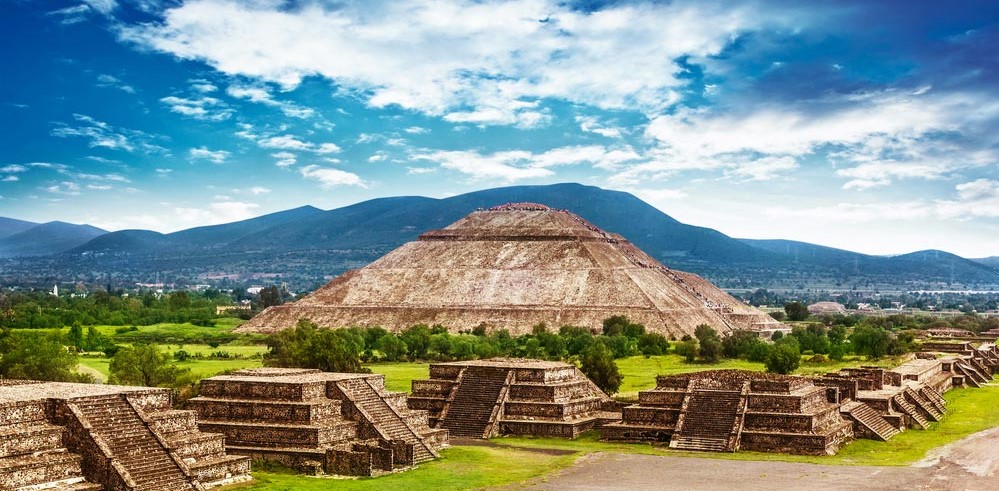 MYSTERY SCHOOL TEACHINGS OF THE SACRED
"The Way of the Spiritual Warrior"
 PYRAMIDS OF TEOTIHUACAN, MEXICO
8 days/7 nights     February 18 – 25, 2018
Thousands of years ago, the magnificent pyramid city of Teotihuacan, "place where humans become as gods", served as an initiation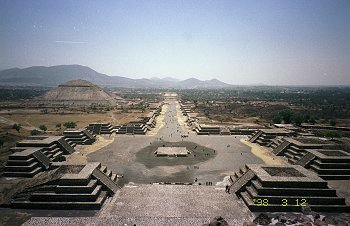 center and repository for the spiritual knowledge of the ancient ones.  It was home to Master adepts known as Toltecas Naguales, who practiced and taught select seekers disciplines for living in harmony with themselves, each other, and their environment … creating the dream of heaven on earth.
This sacred knowledge was hidden, not lost, to avoid desecration and intentional misuse of power after the city was abandoned.  Prophecies foretold the coming of a Golden Age of consciousness, when this wisdom would once again be returned to humanity and we are standing on the threshold of time now.
Teotihuacan was built on a geodetic grid system (a power center) in sacred geometrical alignment with the cosmos, allowing for the strong merging of earth energy with stellar energy.  This energetic marriage of the heart of the earth with the heart of the sky provided a "quickening"  for the Toltec initiates in their transformation process into fully actualized humans or "Quetzalcoatls" the beautiful plumed serpent.
Today, Teotihuacan continues to be a university of the spirit and a place of initiation for those that access the energy and silent knowledge that is held in this ancient mystery school.   Stepping out of linear time and into sacred space we are able to see with the clarity and vision of the eagle and resonate with our true purpose and heart-centered intent.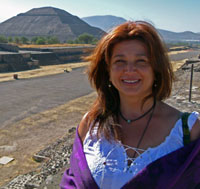 Join Cynthia on this very special pilgrimage to Teotihuacan as she shares her knowledge of Toltec practices and mystery school teachings of the Ancient Americas. Our journey through the spiritual university of the Toltecs will begin by entering the serpents mouth at the Temple of Quetzalcoatl, to awaken to the remembrance of who we really are. Each day we will progress to specific temple sites and energetic  portals throughout the pyramid complex, to fully open to the wisdom of the ancient ones.  Cynthia has guided groups through the many levels of Teotihuacan for more than 15 years, but this is only the second time that she has offered  SPIRITUAL WARRIORSHIP TRAINING. These Teachings are a culmination of sacred studies and integration of years of apprenticeships with Native American, Mayan, Tolteca, Mixteca and Andean wisdom keepers and medicine teachers.
WHAT OTHERS HAVE SHARED ABOUT THEIR EXPERIENCES –
"The challenges of being "a worker in the light" have already begun. Working from love and trusting my integrity and my heart is how I intend to live this day, here and now! Thank you for the amazing change you have made in my life. From the bottom of my heart, I feel love for you, our group, and all mankind. That is what I will share."
"I just wanted to let you know that I have not stopped thinking or talking about the trip to Teotihuacan since my return. That trip truly redefined my path! Until next time, Please know that you have my deep Gratitude and Respect for all that you do."
" What can I say? I have been there (Teotihuacan) three times with Cynthia, and it changed my life, so what are you waiting for? … just GO!!! " 
"Gracias a ti Maestra Guerrera incansable por tu sabiduria y por tu fuerza interna, por esa Mirada de Felino tan profunda, por todo lo que me has ensenado y por tu paciencia hacia me. Mi amor por siempre."
"Cynthia, maestra guerrera, jaguar de Mirada aguda, nos empujo para aprender a volar. Gracias por sostener mi mano mientras cruzaba por la noche oscura del alma. Es mi deseo que el proposito de me vida honre tus ensenanzas. A todas, hermanas y hermanos que nos encontramos mas alla de los tiempos, mi amor y mi gratitude mas alla de las palabras."
EXCHANGE:  $1,295.00 U.S. per person/all inclusive (based on double occupancy)
A discount is available for returning participants and students of past apprenticeship classes
Please reserve your place today with your non-refundable $250 deposit!
Payment Options
U.S. RESIDENTS
To make your deposit online with your Visa, MasterCard or American Express card on our PayPal Secure Server, please click the "add to cart" button. (The amount charged to your credit card includes PayPal processing fee of 3% for U.S. residents) Payments may also be made by check or direct deposit. Please email us for instructions.
OUTSIDE THE U.S.
You may make your deposit online with your Visa, MasterCard or American Express card with our PayPal Secure Server in your own currency, by selecting your country in which you reside in the "country tab" on pay pal's "check out" page.  PayPal processing fee varies depending on your country of residence.
WHAT'S INCLUDED: 7-nights lodging based on double occupancy (6 nights at a private retreat center located in the shadows of the Pyramids; 1 night lodging in the Pueblo Magico Tepoztlan);  two delicious meals per day plus evening snack;  full days of TEACHINGS OF THE SACRED and ceremonies with Cynthia; pyramid entry fees and group ground transportation to/from the Mexico City airport and the magical village of Tepoztlan, birthplace of Quetzalcoatl!   Everything is taken care of except your roundtrip air flight, extra snacks and drinks, and gratuities to retreat staff.  You will be responsible for extra snacks, drinks, and one meal in Tepoztlan and all the treasures you may find along the way!
BACK TO TEACHINGS OF THE SACRED
VIDEOS OF PAST JOURNEYS TO TEOTIHUACAN